Marathons, marathons, marathons - it's that time of year again. I'm pretty sure it was around this time last year that I signed up for Eugene. Fall marathon season always gets me revved up because I have such fond memories of the Chicago Marathon. Maybe the universe is trying to tell me that if I run a marathon, it must be Chicago. There are so many teammates running it this year! Meet all of them here on the Oiselle blog. I wish so very much that I could grab a Starbucks, walk from my apartment and spectate alongside the boystown cheerleaders like I did back in the day. And I really wish I could experience another Oiselle major marathon meetup, like Eugene.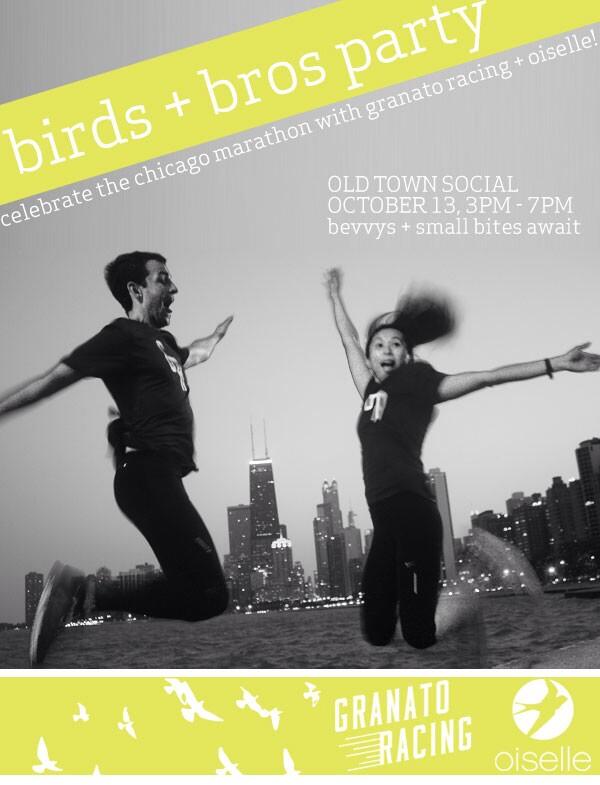 If you're running Chicago, check it!
The FOMO for this after party is doubled because, see that girl jumping in the picture there? That'd be one of my Chicago homies that I've known for well over a decade.
I HAD to do a little walk down memory lane here! Chanthana is always on my left for some reason, with the exception of the lower right pic. This is just a sampling of many pictures I mostly do not recall taking... There are clearly RBVs in at least two of these pictures and would you get a load of my phone in the bottom left pic!!? HAHAHA.
It'd be so fantastic to catch up with Chanthana and hang with her Granato Racing team alongside all my bird brethren. Sigh.
ALAS! I will most likely see her in just a few short weeks when I come home to run for Chocolate! I've invited one of my best college buddies, who I also used to run races with, to do it with me (can't wait!) and I have already made plans to have a night with my high school besties while I'm there. YAY!! I can't thank the folks at RAM Racing enough for the opportunity they've given me. If I didn't have this trip planned, the FOMO might seriously have been life threatening.
Internet fun I found this week:
This week's addition to the playlist: Pompeii by Bastille, very catchy tune.
Happy weekend all, and go Chicago runners!!