Mmmmmm, ain't that purty??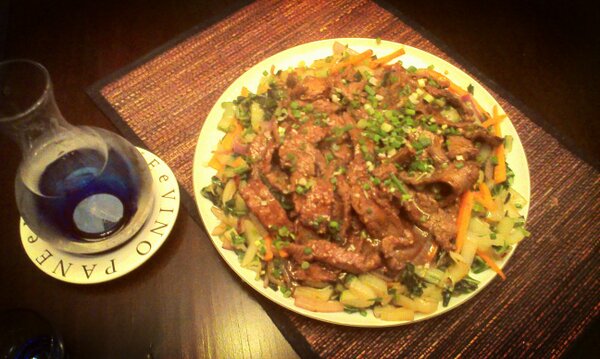 We even picked up some sake and dusted off our wee sake cups and carafe.
Okay, enough about the seven flavor beef - we're gonna try a new Thai dish this week and probably polish off most of these:
I'll use any excuse to make the Christmas cookie recipe again.
Monday - Pizza
Tuesday - easy cheesy chili chicken breasts (verrrry old Food Network recipe we broke out from our archives)
Wednesday - Thai green curry turkey meatballs (this week's pinterest experiment)
Thursday - angel hair with pomodoro sauce: just saute garlic and onion with olive oil in a large pan, add a 28oz can of whole san marzano tomatoes and mash with a potato masher, season w/kosher salt, pepper and crushed red pepper, cook about 15 minutes/until it thickens and add LOTS of fresh basil and fresh grated Parmesan cheese. (and maybe some other red items for a fun Valentine's Day dinner with the kids)
Friday - Italian beef stew and mashed potatoes
Saturday - chicken parmesan (one of our faves for 'Valentine's Day' and a good bottle of wine)
Sunday - chopped chicken salad (grilled chicken, bacon, avocado, red onion, green onion, blue cheese and homemade vinaigrette - olive oil, red wine vinegar, dash of honey, dash of dijon mustard, salt and pepper to taste)